Welcome to Duxford Girl Thursday, December 07 2023 @ 09:05 MST
Late to the Party
Sunday, August 31 2014 @ 01:35 MDT
Contributed by: dubocn
Views: 4,017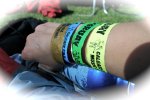 I don't listen to top 40 which has the benefit of protecting me from crap like Nicki Minaj's 'Anaconda'. Unfortunately, it also means that I miss out on awesomeness like Adele and Amy Winehouse. The latest awesomeness I can't get enough of? Lana del Ray. Her stuff is amazing, I could listen to it all day (actually, that's exactly what I've been doing). Her music is like a house decorated in hipster, shabby chic. It's the perfect mix of quitch and fucked-up.
Here's an example:
Trackback
Trackback URL for this entry:
http://www.duxfordgirl.ca/trackback.php?id=20140831133549258
No trackback comments for this entry.