Welcome to Duxford Girl Thursday, December 07 2023 @ 09:59 MST
Just... wow
Monday, August 25 2014 @ 08:51 MDT
Contributed by: dubocn
Views: 6,181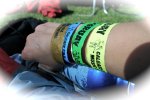 A friend at work told me to watch the new Nicki Minaj video because it was "basically a porno". How could turn up an offer like that? It was so awful that I'm posting some Nina Simone to get the awful out of my head.
Trackback
Trackback URL for this entry:
http://www.duxfordgirl.ca/trackback.php?id=20140825085152600
No trackback comments for this entry.