Welcome to Duxford Girl Sunday, November 28 2021 @ 08:19 MST
Giving Up
Saturday, February 15 2014 @ 08:56 MST
Contributed by: dubocn
Views: 1,419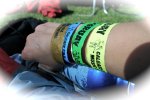 This is a great song that was recently introduced to me by a friend and then someone else I know posted the video.
I think that a lot of people find themselves in this position. It's hard to leave and a lot of people just can't. Staying somewhere you know that you shouldn't be is what makes a person painfully dead inside.
Trackback
Trackback URL for this entry:
http://www.duxfordgirl.ca/trackback.php?id=20140215085652810
No trackback comments for this entry.