Welcome to Duxford Girl Monday, January 21 2019 @ 05:53 MST
Very, Very Wrong
Thursday, January 03 2013 @ 12:06 MST
Contributed by: dubocn
Views: 971

This photo was recently posted on Facebook: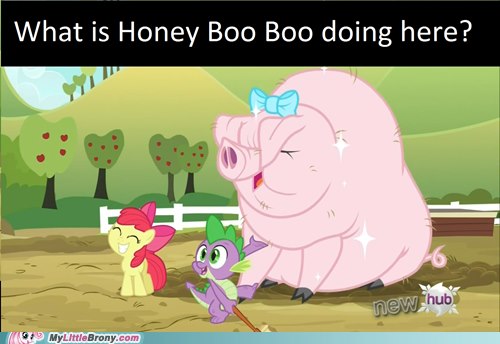 If you don't know who Honey Boo Boo is, take a look at this site:
http://tlc.howstuffworks.com/tv/here-comes-honey-boo-boo
The argument has been made that if a person doesn't want criticism, then they should not put their daily life on TV. The problem with this theory in this case is that the star of this latest reality TV 'train wreck' is a seven-year-old girl. Not only does this meme use a popular childrens' show to make its point, it's making fat jokes about a little girl. It's not funny, it's mean and it's bullying. Just because her parents have made the choice to put their family on TV does not mean that grown adults have the right to bully a young child. There are plenty of other things that could be noted about this young girl. She's confident and makes some pretty honest observations about the world around her. Unfortunately, she is female and poor and on TV so this signals to a supposedly civilized and educated population that it is completely acceptable (and funny) to make nasty comments about her.
Am I over-reacting? Not really, every time a women or girl is criticized based on her body, her looks or her status in society, we are taking huge steps back in progress. It is these petty criticisms that make our society less concerned with the gross injustices that effect women in every part of the world.
If you want to criticize something, criticize governments (particularly the US) who make it necessary for people to sell their dignity to reality TV producers in an effort to make ends meet. Why do think shows about birthing and health have no problem finding new subjects for their documentaries?
Trackback
Trackback URL for this entry:
http://www.duxfordgirl.ca/trackback.php?id=2013010312064956
No trackback comments for this entry.