Welcome to Duxford Girl Monday, January 21 2019 @ 05:27 MST
The Ottawa Bike Crash
Sunday, July 15 2012 @ 06:55 MDT
Contributed by: dubocn
Views: 854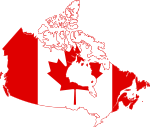 So there I was in Ottawa enjoying a lovely bike ride with Kriszta in the Green Parkway when we turned a corner and there was a steep rocky slope. I almost had it and in the end, I think that my big mistake was using my brakes at all. I should have just let my body and the bike find their way down the rocks but because it was a borrowed bike I wasn't quite sure of myself. t all sort of happened in slow motion. One second I had my feet down and I thought that I was going to recover, the next I actually felt myself leave the bike and go right over the handle bars. To Kriszta's credit, it didn't even occur to her to laugh. I on the other hand though the whole situation quite funny. As I untangled myself from the handle bars, I was relieved to find that my new prescription glasses were still intact. I spat out the grit between my teeth, wiped off my bloody chin and proceeded (much to Kriszta's surprise) to get back on the bike to continue. It takes a lot more than some gravel burn and blood to keep me down!
Back at Kriszta's I showered and discovered what was dirt and what were badges of honour. My chin took a good chunk of the trauma with a nasty scrape. It took me about a day to get all the grit out and now I'm left with a nasty sore patch. My left elbow isn't marked in any way but is very sore if I bump it.
I have a patch of road rash on my shoulder along with a large, sore bruise that arrived a day later and has continued to turn weird colours.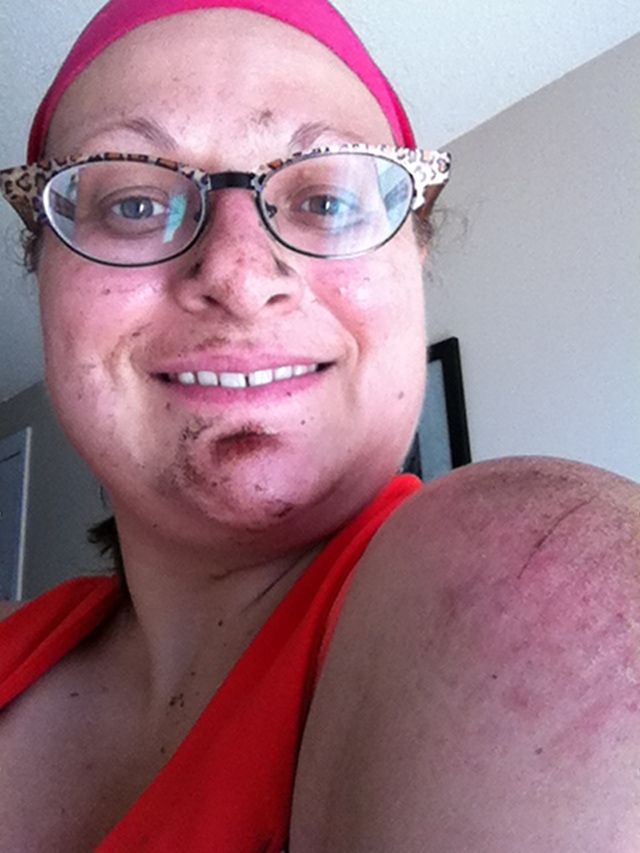 I skinned my left knee.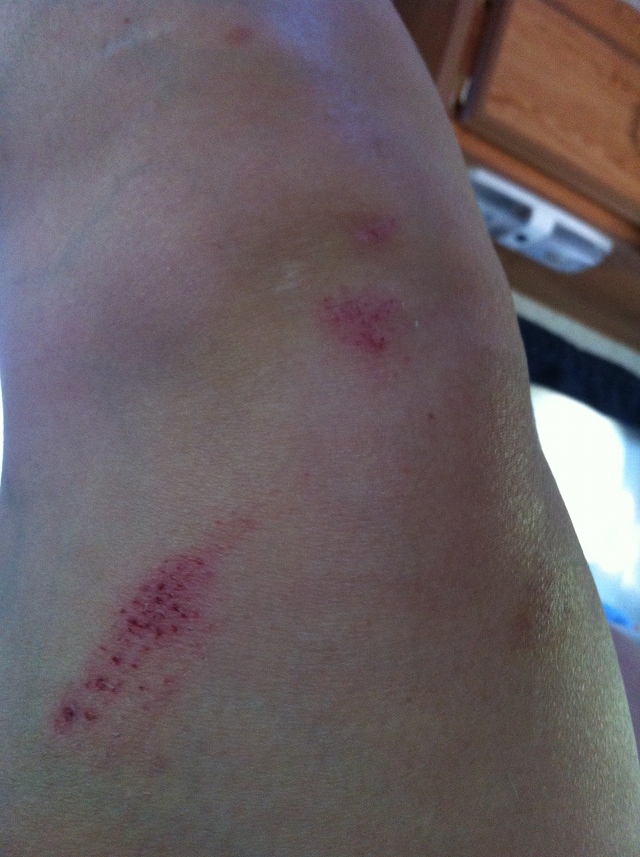 My right knee (as per usual) has the worst damage. The whole thing was bruised, swollen and achy. That thing is so defective, I've had trouble with it since I was a tween. It's been less sore as the week has gone on but the bruising has become a lot worse.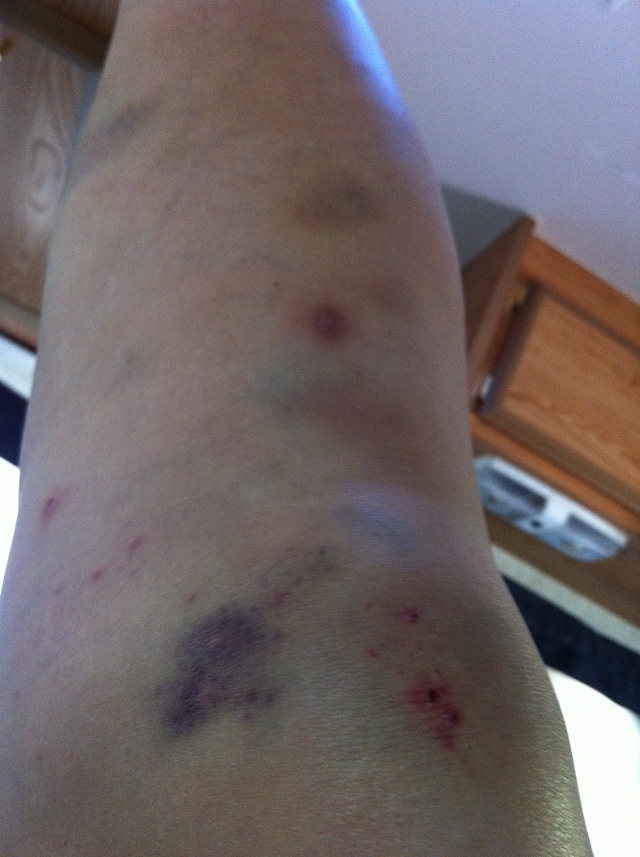 I was a bit sore after our trip to the Canadian War Museum but I expected to wake up the day after and feel much worse than I did. All-in-all, a great bike ride! I liked biking on rough ground. I think that I'll have to check out the trails at Kananaskis when I get back.
Trackback
Trackback URL for this entry:
http://www.duxfordgirl.ca/trackback.php?id=20120715185504123
No trackback comments for this entry.