Welcome to Duxford Girl Wednesday, May 18 2022 @ 11:48 MDT
The SLOD 21 Jan 12
Saturday, January 21 2012 @ 09:43 MST
Contributed by: dubocn
Views: 1,211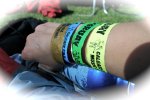 "the room was dark and empty,
I could see that all my clothes and money were gone"
Five Days in July - Photograph
Blue Rodeo - J. Cuddy/G. Keelor
www.bluerodeo.com
Contrary to popular belief, I don't sit around torturing myself with sad songs all the time (just most of it).
When I woke up this morning, this lyric was going through my head. It strikes me as funny (and cold) that she not only takes his money but his clothes too.
Trackback
Trackback URL for this entry:
http://www.duxfordgirl.ca/trackback.php?id=20120121214334901
No trackback comments for this entry.