Welcome to Duxford Girl Wednesday, May 18 2022 @ 10:23 MDT
The SLOD 18 Jan 12
Wednesday, January 18 2012 @ 09:08 MST
Contributed by: dubocn
Views: 1,054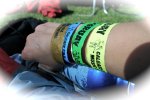 "In the lonely light of morning,
in the wound that would not heal"
Fallen - Afterglow
www.sarahmclachlan.com
Wounds do have a way of not healing when you're in the habit of continuously picking them open. Some people are emotional masochists and I sadly fall into that category.
Trackback
Trackback URL for this entry:
http://www.duxfordgirl.ca/trackback.php?id=20120118090812251
No trackback comments for this entry.