Welcome to Duxford Girl Thursday, December 07 2023 @ 09:28 MST
Halloween Cometh
Thursday, October 20 2011 @ 06:41 MDT
Contributed by: dubocn
Views: 1,351

After a seven-month wait, I finally have an appointment with a psychiatrist ... on October 31st. It seems to me that this auspicious occasion requires that I make a new costume. What does one wear to see the shrink on Halloween? A straight-jacket seemed in poor taste as did anything zombie related. I'm not thin enough to pull off a "Carrie" costume and not tall enough to pull off a "House MD" costume (sadly, the beard could probably be easily handled if I laid off waxing and plucking for a few weeks).
In the end I decided that it was time to make something that I'd been planning to make for some time, a VAD nurse uniform.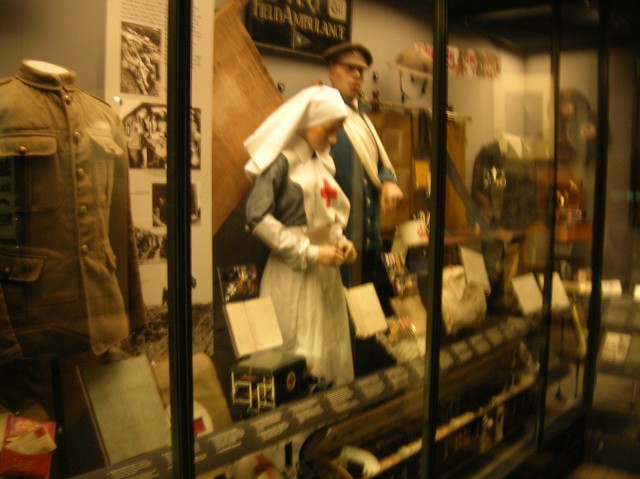 The above photo was taken by me in London in 2006 at the Imperial War Museum. It's a bit blurry as I was still getting used to my new camera and its settings.
The Volunteer Aid Detachment nurses (VAD) were first-aiders who assisted with all types of medical duties including driving ambulances, acting as orderlies and and any other duties requested by medical staff. Because they generally weren't paid, they were often middle to upper-class women who could afford to volunteer, some even converted their own cars to be used as ambulances. They left an Edwardian life of relative ease to do difficult and often heartbreaking work in one of history's most gruesome conflicts.
Over the next several days, I will be including photos of my work on the costume as well as more information about the VAD.
Trackback
Trackback URL for this entry:
http://www.duxfordgirl.ca/trackback.php?id=20111020184115612
No trackback comments for this entry.