Welcome to Duxford Girl Friday, December 14 2018 @ 06:04 MST
The PhOD 08 Sep 11
Thursday, September 08 2011 @ 11:02 MDT
Contributed by: dubocn
Views: 741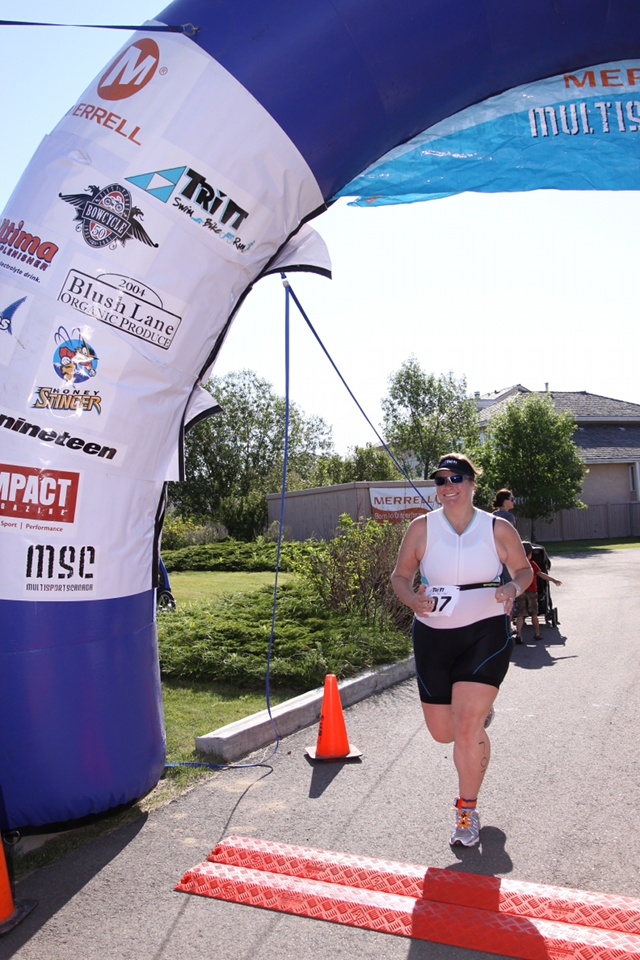 This was taken as I crossed the finish line of my first Tri-It triathlon last July. I decided to post it as a little boost to my waning self-confidence as I struggle with an injured knee. As I ice my knee one more time and wonder how on earth I'm going to make it through the next half-marathon if things don't improve, it's hard to remember that the reason I run is to improve my health both mentally and physically.
However, last night while doing speed work, I was reminded of why I like the running community a few times. The first happened as a tall, female inline skater went by us. Her body looked like something on the cover of a fitness magazine.
Me: "I'll never look that, just kill me now."
My Running Partner: "I didn't know mullets were back in."
That's what I like about my running partner, she always sees the bright side of things.
Later on, when I was painfully jogging through my last 400m sprint, I saw some rafters getting out of the Bow. One was already out and beside the path. He was young and sea-patrol ripped and I figured that he'd be pretty amused by the middle-aged, fat chick running by him. Instead he smiled, gave me a high-five and told me to keep up the hard work. He must be a runner because people who run are always willing to offer encouragement to other runners. As far as I can tell, as long as you're out there trying, the running community is happy to include you.
Near the end of my run, some people were clustered on one of the pathways. A man had fallen while inline skating. I didn't bother to stop as there were already about ten people there. Someone had a first aid kit and was tending to some of his injuries, another had lent him a cell phone and others were comforting his young son. In spite of how frustrating I find Calgary as a city sometimes, it's nice to be able to say that I still live in a place where people stop to help.
Trackback
Trackback URL for this entry:
http://www.duxfordgirl.ca/trackback.php?id=20110908110239396
No trackback comments for this entry.