Welcome to Duxford Girl Saturday, January 16 2021 @ 08:55 MST
Mr. Charming
Monday, May 03 2010 @ 10:10 MDT
Contributed by: dubocn
Views: 999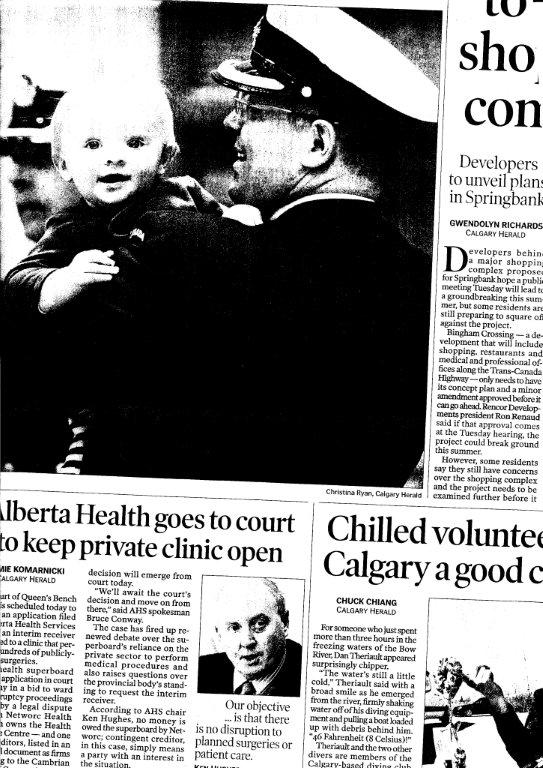 Junior is incapable of going out without charming everyone he comes into contact with. He can be totally grumpy but the minute someone notices him he's all smiles.
Yesterday was no exception as he and ES were having father-son time while I was partaking in brunch at the Lido with my girlfriends. They were at the annual Battle of Atlantic ceremonies at the HMCS Tecumseh. As it happened there was a Calgary Herald reporter and because Junior was working his usual magic he and his father managed to make it into the Herald. It's a great shot with my son looking over his dad's shoulder. Junior's hair is really shaggy right now so he almost always has a big cowlick right in the middle of his head. Combine that with his rosy cheeks (lots of teething, no teeth yet) and you get a baby who looks like he just fell off a package of 1950's baby cereal.
What a pair those two are!
Thanks to Jen's dad Gary for the scan. See ES's page for the shot in colour:
http://www.evilscientist.ca/article.php?story=2010050320571069
Trackback
Trackback URL for this entry:
http://www.duxfordgirl.ca/trackback.php?id=20100503101054404
No trackback comments for this entry.