Welcome to Duxford Girl Friday, January 18 2019 @ 07:02 MST
"High, Up Above Lake Louise"
Sunday, March 16 2008 @ 03:45 MDT
Contributed by: dubocn
Views: 782

Thereís something thatís always bothered me. In spite of the fact that I used to ski and in spite of the fact that I live within two hours of some of the best skiing in the world, Iíve lived in this damn place for almost ten years and until recently had only hit the slopes twice. When I first moved here, it wasnít a priority. I wasnít exactly flushed for funds right out of uni and I certainly didnít view my tenure in Calgary as permanent. As the years wore on, other things kept coming up and although I seriously considered getting a pass when I saw them advertised every year, I talked myself out of it. After all, I no longer owned my own equipment and so the excuse list grew. I almost bought equipment three years ago but when I started flying I decided that I didnít need two expensive hobbies.
That all changed this year. As it turns out, you might as well have a spare expensive hobby since airplanes spend half their time grounded in the winter because of weather, mechanical and low temperatures.
In the early fall, I grabbed a friend of mine in the know and went shopping for equipment. He helped me find boots that would fit my irritatingly wide feet and thick calves. I picked out some boards that would get me back into the sport and take me through to (hopefully) being a more advanced skier. I cheaped out on poles opting to use the ones I had from my old equipment (I needed that extra $150 for my next purchase after the skis, my new car). I then discovered the joy that is the Helly Hansen outlet. So by mid-October, I was good to go.
But there was a lot of overtime available and I had new toys to pay for.
Then Xmas hit.
My time off in January was too cold to ski or fly.
Finally, in early February, I finished a flight one day and decided that I was not going to exit the winter without at least one day of skiing to my name. I headed to COP. Itís important to note that at the time, my KIA was still out of service because of an accident in December so I put my skis crosswise in my sports car and headed out anyway. I was pleased to discover that I could still manage fairly decent turns and after some trail and error with adjustment, my boots were fitting pretty comfortably. I only had one minor wipe-out and finished the day more or less triumphant.
I stopped in at the pro shop and picked up a boot bag (Ďcause it was cool), a ski bag (I didnít want anymore ski marks on the aluminum dash of my car) and a helmet. I had initially scoffed at my friendís suggestion to get a helmet but I realized very quickly that it was as standard now on the hills as bike helmets are on the trails. Plus, letís face it; I donít bounce the way I used to.
February dragged on in that relentless way it has (like Arthur Dent and Thursdays, Iíve never gotten the hang of Februarys). Although I hoped that the provincial election would keep me busy enough to ignore the month, in the end, the February blues took their toll on me.
Last week it was time to some time away in the Rockies (if only for the moment). It was a near-perfect day at Lake Louise, lightly snowing in the morning and giving way to sunny skies and warm temperatures throughout the day. It was a bit chilly in the wind on the higher slopes but all in all, good conditions.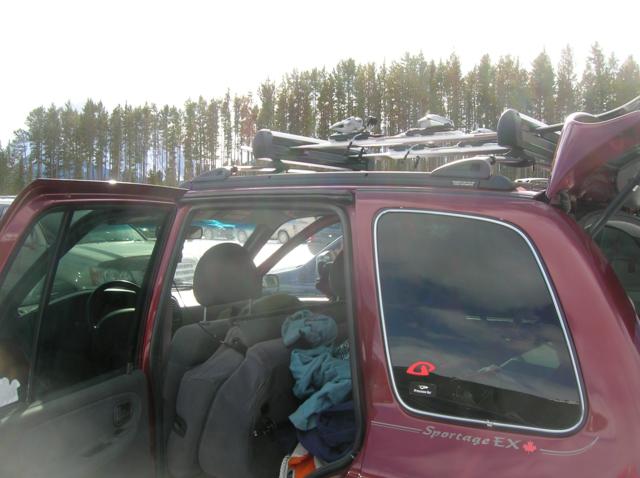 KIAs back! I missed my little SUV in the months that it took to get repaired and had the awful feeling that I had been neglecting her terribly since the purchase of my "Stang. Well, now she's my ski wagon complete with rack on the roof and a newly detailed interior. Can't wait to cover her in stickers from the slopes.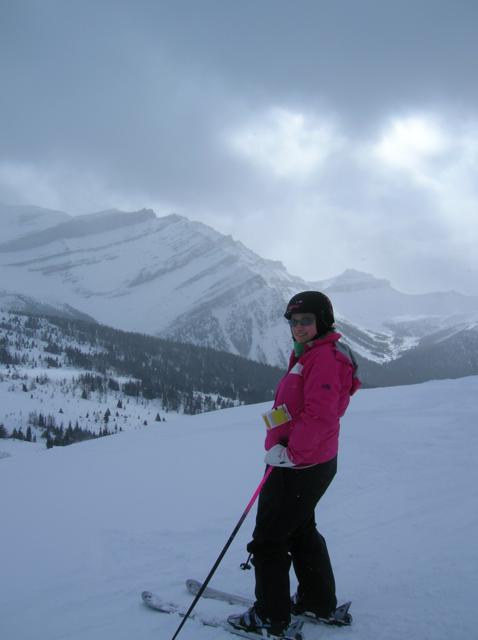 I don't care what anyone says, it's hard to look cool in ski gear. My two ski trips have turned out to be expensive after the fact. A couple of days after this trip I invested in a good pair of goggles as by the end of the day I was unable to distinguish features in the snow, like moguls.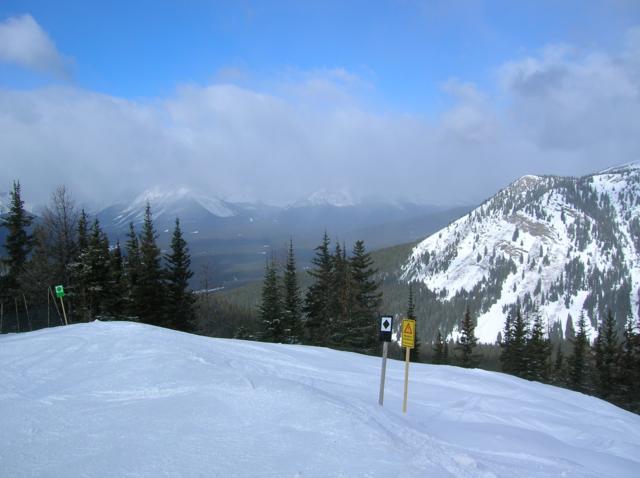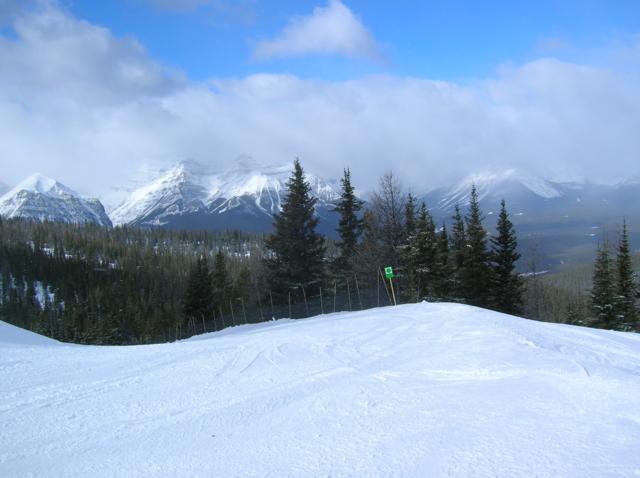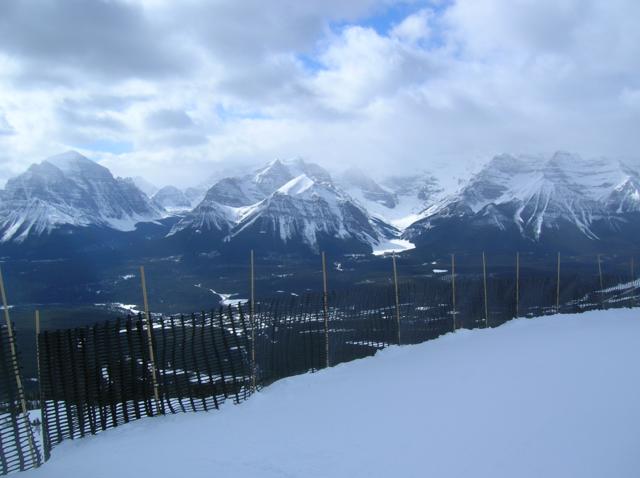 It doesn't really get any better than this!
Trackback
Trackback URL for this entry:
http://www.duxfordgirl.ca/trackback.php?id=20080316154541731
No trackback comments for this entry.