Welcome to Duxford Girl Monday, December 17 2018 @ 01:27 MST
The Flying Suit - Butterfly Comb
Friday, October 05 2007 @ 06:50 MDT
Contributed by: dubocn
Views: 21,952

The suit also has a number of accessories. In her hair Rose wears an art-deco butterfly comb. Roseís maid would have been responsible for setting her hair. Hair styles would often be changed to match outfits and times of the day. In the scenes that feature the suit, Roseís hair is actually down which speaks of how young she still is. Once married, it is doubtful that she would be seen with her hair down in public. What we refer to as up-dos would have been a daily occurrence for women of all stations. Keep in mind, even Rose would not have washed her hair every day allowing a build-up of natural oils to make styling easier. If she didnít have naturally curly hair, she would have slept in rag curlers. I would guess that women simply had healthy, stronger hair back in the day. They didnít cut, dye, spray and generally torture their hair the way we do. Granted, Iím sort of a fan of showering every day. I have an excellent replica of the butterfly comb. J. Bailey and Company has made an affordable and wearable piece that can be purchased from
www.moviegowns.com
. Even I am able to wear it in my thin hair and if thereís any major difference between the replica and the original, I certainly canít see it. The J. Peterman Company also reproduced the comb in 1998. These replicas occasionally turn up on eBay and usually go in the $700 range. Mine was a 10th of that price and I find it so irresistible that when Iím dressed for day shift I wear it to work (this usually creates a hazard when mixed with my headset).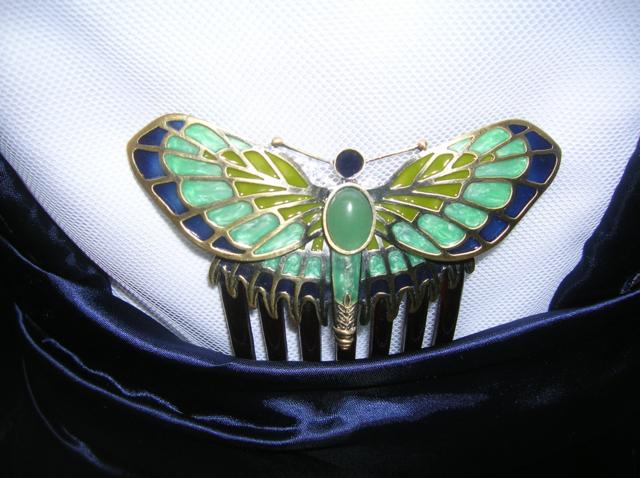 My comb tucked into the rouched sash of the suit. It's not evident in my photo but the wings of the butterfly are opaque.


The movie comb.
Sadly, unless Tracie and Jill start selling Titanic replica hair, Iím out of luck to have Roseís curly red locks. I have such baby-fine hair that it barely holds curl. When I manage to grow any length into it the ends just thin out and split. The best I can manage is either a bun or an untidy French roll.
Trackback
Trackback URL for this entry:
http://www.duxfordgirl.ca/trackback.php?id=20071005185044966
No trackback comments for this entry.