Welcome to Duxford Girl Monday, December 17 2018 @ 12:57 MST
The Tragically Hip Hockey Jersey
Monday, November 13 2006 @ 12:16 MST
Contributed by: dubocn
Views: 7,718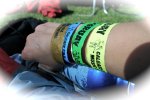 I was orginally going to include this little thought in a story that had a bunch of random goings on in my life but then it occured to me that every blog entry doesn't have to be a novel. A number of years ago the Hip had these really cool hockey jerseys as one of the promo shirts you could buy at their concerts. They're red and white with a big maple leaf and an NHL logo that is actually a THH logo. It seriously doesn't get any more Canadian. I sort of hoped that they still sold these jerseys but on their site they have new jerseys from Evolution but not the red and white variety. I went to eBay (of course) thinking that there had to be a few of these things up for bid...yeah, good luck with that. There was one that was fully signed and it went somewhere in the $500 range. Haven't seen another since. I've come to the conclusion that people love their Hip jerseys and that I'm out of luck.
Trackback
Trackback URL for this entry:
http://www.duxfordgirl.ca/trackback.php?id=2006111312163086
No trackback comments for this entry.